Here at Lapeer Assembly of God we believe our children are the church of TODAY. We believe in speaking life over the lives of children, unlocking their greatest potential in Christ, and releasing them into serving the church and beyond. Children are a heritage from the Lord, and it is our aim to help parents raise their children up in the training and admonition of the Lord and to provide safe, quality childcare where your child will be ministered to through the love of our church family, and that also allows parents to participate in their own Bible study and fellowship time worry free!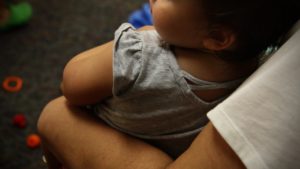 Nursery Sick Policy:
In order to maintain a high standard of health, we ask for your cooperation as a parent/guardian to assist in the following preventative measures. Remember that it is your child and the children of other parents will benefit from your cooperation.
Please do NOT bring your child to the nursery if he or she displays any of the following:
• Runny nose with colored mucus
• An above normal temperature (over 98.6)
• Irritating/persistent coughing or sneezing that is productive
• Drainage in the eyes, conjunctivitis, or pink eye
• Irritability and/or fever due to immunizations in the last 24 hours
• Undiagnosed rashes or eruptions of unknown origin
• Diarrhea or vomiting within the last 24 hours
• Irritability and pulling at ears
NOTE: If your child has been sick earlier in the week the 24-hour rule applies; if a child has been on antibiotics for 24 hours, without fever for 24 hours, and shows no other symptoms for 24 hours, it is considered safe for them to be in the nursery.
It is our prayer that our children are in good health at all times. However, when symptoms are present, bringing the child around other children is unfair to both your child and other children. If we make a judgment error in not receiving your child, we prefer to err on the side of caution.
Thank you for your cooperation in following these guidelines!
*All volunteers in this ministry must fill out an application which includes a background check.