Therefore, I urge you, brothers and sisters, in view of God's mercy, to offer your bodies as a living sacrifice,
holy and pleasing to God – this is your true and proper worship.
Romans 12:1
Our worship services are every Sunday at both our East and West campuses from 10-11:30am.
Our music is a mix of newer worship songs and powerful
hymns always with a focus on biblical truth.
We also have specific worship nights we call "Immerse", where we dedicate an entire service to worship. Immerse worship nights always land on the first Wednesday of March, June, and September from 7:00 pm – 8:30 pm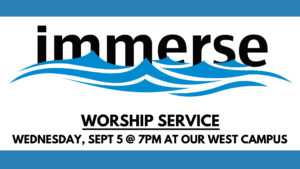 Introducing "New Wine" & "Living Hope"