Our Lapeer Assembly of God MOPS group is an open, accepting place for all mothers to experience authentic community, personal growth, practical help and spiritual hope. MOPS is for all mothers from all walks of life: pregnant, adopting, and those with children from birth to kindergarten. For general information about MOPS, please visit
www.mops.org
.
Our meetings include insightful speakers, helpful demonstrations, small mom-to-mom discussion groups, creative activities, great food, and relaxing fellowship. We offer childcare from loving volunteers that look forward to spending time with your little ones each session. Our goal is to have you leaving each meeting feeling renewed and refreshed, ready to take on motherhood again.
Our MOPS group meets on the 1st and 3rd Tuesdays of the month from 9:15am-11am between September and May at the Lapeer Assembly of God West Campus at 5065 Coldwater Rd. Stay tuned for our meeting dates to be posted here!
What Can I Expect at MOPS?
Warm Breakfast & Coffee. We know that as moms you often don't get a chance to sit down and eat a hot breakfast or drink a hot cup of coffee without little hands trying to steal a bite. That's why we make sure to have warm breakfast & coffee at every session.
Insightful Meetings. Our meetings include speakers from the community who share topics that pertain to us as women, moms, and wives, the opportunity to test our creative skills with fun crafts, and the chance to make new friendships during small mom-to-mom discussion.
Childcare. We believe that your little ones are the most precious gift, so during our meetings your littles (5 years & younger) will be cared for by amazing MOPS Kids volunteers so you can relax and have a whole conversation while your coffee is still hot!
Playdates & Mom Nights Out. Motherhood is much better with other mom friends, so we put together organized times to get to know other moms outside of our MOPS group…some of those times with kiddos and some are without!
Check out our UPCOMING EVENTS!
Please join us for our upcoming Open House for more information and to complete your registration!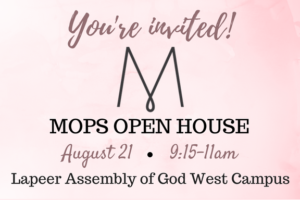 For more information about our MOPS group, please visit our Facebook page @mops.lapeer or contact us via email at mopslapeer@gmail.com.